Overview of Rome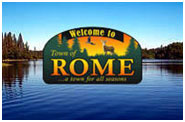 Rome is synonymous with outdoor recreation, truly a place for all seasons. Conveniently located just 3 hours from Milwaukee and 4 hours from Chicago, Rome is fast becoming a premier Wisconsin recreation destination. Read on and discover why.

Rome's four shimmering Lakes, Camelot, Sherwood, Arrowhead and Petenwell offer unparalleled water recreation for the entire family. Float boat, ski boat, sailboat or canoe, you'll be delighted to discover there is room for everyone. Because fun remains a high priority in Rome, water sports enthusiasts enjoy liberal water skiing hours on all area lakes. Fishing is very popular locally, with well-managed fisheries producing quality year-round fishing fun for bass, walleye, northern and panfish. The expansive 23,000-acre Lake Petenwell, located on the western border of the township, attracts anglers from afar for the annual walleye and white bass runs and for the added thrill of pursuing muskies and catfish. Conveniently placed public launches offer boaters easy access to all four lakes. To round out your family fun, the well-appointed Adams County Park on Lake Arrowhead's west shore beach is the perfect spot to relax, soak up the sun and enjoy a refreshing swim.

Rome is host to an abundance and wide variety of wildlife. Here we marvel at the beauty of soaring bald eagles, catch the comical antics of the sandhill crane, sense freedom in the resident blue herons as they patrol the shorelines and always listen intently, and somewhat impatiently, for the musical arrival of migrating loons, tundra swans and Canada geese. Central Wisconsin has long been known as a sportsman's paradise with whitetail deer, wild turkey, waterfowl and ruffed grouse being the area sportsman's favorites. Rome's thousands of acres of corporate lands offer quality public hunting as do the numerous islands and sloughs interspersed in the northern areas of Lake Petenwell. Visit Rome and discover how great the great outdoors can be.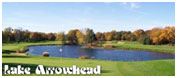 Live where you play and play where you live. If your quality of life is contingent upon your quality of golf, Rome's Lake Arrowhead golf courses should provide you with plenty of happiness as well as challenges. The Pines is Lake Arrowhead's original 18-hole championship golf course and has matured into the golfing equivalent of a fine wine. The Pines is a Golf Digest Four Star Places to Play Award Winner and has been ranked among their top 75 public courses in America. The Lakes, carved from lush oak and pine woodlands is Lake Arrowhead's latest. Featuring water hazards on seven of the 18 holes, The Lakes is a true test of golfer versus water, rewarding the accurate and punishing the gambler. This combination of scenic beauty and well-bunkered beast is why The Lakes was nominated as one of Golf Digest's Best New Public Courses in America in '99. Both courses were designed by famed golf course architect Ken Killian and are located just west of State Hwy 13 in the Lake Arrowhead development.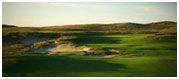 There's more. America's next golf mecca is coming to Rome! Chicago developer Mike Keiser is set to begin construction of Sand Valley, a world-class multi-course layout in 2014. Sand Valley will be laid into the massive sand dunes left behind in an area known as Glacial Lake Wisconsin. Keiser sees the big dunes as "features like oceans ... and we will play in and through them". Keiser's Bandon Dunes in Oregon is already a world-class golf resort that attracts thousands of high-end players from around the globe. When completed, Sand Valley will have up to four links-style courses, all designed by acclaimed golf course architects. Keiser stated "My model for them is a combination of Pine Valley, Sand Hills and National Golf Links on the dunes of Long Island. Those three are my models - not to duplicate but just to be inspired by." It's an exciting time to be in Rome!
What's more exhilarating than wintertime fun? Get on that sled and ride! Explore Rome's outdoor treasures from a network of groomed trails that seem to never end. From highlands to creek bottoms, pine forests to meadows you can be assured of quality trails and a warm welcome. The local snowmobile club, The Rome Snobandits, organizes events and social activities, maintains trails and promotes riding safety. For those who are reinvigorated by wintertime exercise, Lake Arrowhead maintains groomed cross-country ski trails on the Pines Course, and the area's woodlands and lakes provide the perfect place for snowshoeing and enjoying the winter wildlife.
Local wintertime events include annual Ice Fisherees on Lakes Sherwood and Camelot, snowmobile drag racing, radar runs, and the annual New Year's Day Polar Bear Jump on Petenwell's Barnum Bay, Ski Jumping events on Dyracuse Mound, and SnoBlast, Lake Arrowhead's annual winter party that delivers a non-medicinal cure for cabin fever. This family fun event features snow volleyball, ice fishing, English darts, lawnmower racing, sheepshead competitions, hayrides and live music. The spectacular grand finale, a rare wintertime fireworks display that will leave you awestruck, highlights the artic celebration. SnowBlast is open to the public and rocks for three days in February.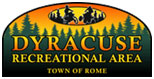 Having difficulty finding a place to get your new ATV or dirt bike dirty? Whether you're into banging handle bars or getting buried in the bog, the Dyracuse Motorcycle Recreational Area, which is open to the public by daily admission or season pass, is a 334-acre dirt playground that includes two motocross tracks, a supercross track, peewee track, and over 10 miles of ATV and Enduro trails. Each summer this unique gem is host to competitive motorcycle events including motorcross, harescrambles and hillclimbing. A widespread network of marked ATV trails also encompasses the lakes area providing convenient access to the Dyracuse Motorcycle Recreational Area, and also to the Monroe Prairie ATV Recreational Area, which offers the weekend warrior miles and miles of scenic trails through forestlands, hills and sand dunes.